This post contains affiliate links, which means if you click on a click on a link and make a purchase, I will make a small commission, at no additional cost to you, the consumer.
---
Are you wondering if you can really make $150. a day with Profiteer or if it's just another scam waiting to take your money?  Let's dig in and check it out.
Product: Profiteer
Website: profiteertoday.com
Owner: Jason Fulton & Mosh Bari
Price: $12.94 & Upsells
Recommended: No
---

What Is Profiteer
Profiteer claims to have a system in place that will allow you to make $150 a day, with in just 24 hours or less.  They claim that by using their system, you can consistently, earn three to four figure incomes, every single day.
I know the internet is an awesome place to be able to make money and be able to work from home. The thing is, not everything you see on the internet is true, and this system is one of them.
I know how to make money online and this is not the way to do it. You can't just throw up a web page and start making money within 24 hours.  One of Profiteers' claims is that you can  get this product set up in just 30 minutes and begin making money.
There's a similarity with all these types of websites and there are many red flags to watch out for. They all claimed it's quick to set up, quick to start making money, you will make a lot of money, you won't have to work hard and you won't have to spend much time doing it.
Those are the most common red flags that they all have. You can use these red flags to help you  avoid getting scammed online. No line see a few similar sites that I've reviewed below:
Get weekly Paychecks
Writing To Wealth
EZ Bay Payday
Club 365
Rapid Profit system
How Does  Profiteer Work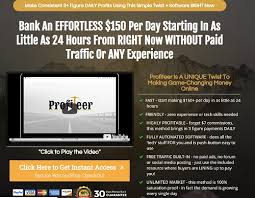 The basis for this system and how you're supposed to make money is by flipping websites. First of all, the domain has to be really special and in demand, in order to have any value. 
Also the website needs to have age, traffic, social media followers, and be making a certain amount of money, before anyone will pay you much for it.  I will also point out that you don't need Privateer to create a really nice website within 60 seconds. 
You can do that for free using WordPress. You just have to buy the domain.  You can place your site on auction at sites flippa.com.  The problem is, with the sites you create using privateers software, will be new sites, with no traffic, no income to show the buyer, as well as no social status. 
It will be worthless and you will not make money.  The big thing is, Profiteer just want you to buy their software.  They don't give you the training you would need in order to build a website that would have value.
Is Profiteer A Scam
No it's not a scam. It is possible to make money doing this.  If you know what you're doing, you can certainly make some money flipping websites. The problem is, not many folks know exactly what it takes to properly flip websites. 
They will not be able to make much money with it because they are lacking information about how it works and what gives a website value that will make it sellable.
There is also a sizable fee involved with listing your website on Flippa and the fee doesn't guarantee it will sell.  So, I ask you again, is this Profiteer product a scam? 
It will have to be in your decision, but knowing what I know about flipping websites, there's no way you will make $150 a day, and no one will be able to flip a new site in 24 hours and make money. 
They claim it will be able to consistently make three or four figures a day with this product but I know that's not true.  At best I would say it is misleading.  There's a better way to make money online.
How I make money online
You can certainly make a lot of money online but to do it you will have to have a plan and a process to follow.  You cannot just put up a pretty website and add a few recipes or post a few things and start making money. 
I find for me, the best way to make money online, is with affiliate marketing affiliate marketing.  Affiliate Marketing takes time and work before you will start making money because you first have to establish trust with your site. 
You have to get a lot of traffic coming to your site.  Visitors = money.  If your visitors don't yet know they can trust you and that you're not a scam you will not make a penny.   
You will only gain that trust over time by helping people solve their problems and giving them good Solutions.  That's the true path to success.  I learned everything I know about affiliate marketing from an amazing website called wealthy affiliate and you to you can too. 
It's free to join and get your own online business up and running.  Just click the green button below to get started!

I haven't always been successful with affiliate marketing.  It took me a long time to get it right.  I struggled and failed at it many times.  I was just about ready to give up when one day, I stumbled upon a website called Wealthy Affiliate.
That was in 2015.  It was free to join and build my first website, but the big thing was, I didn't have to input any credit card info!  That made me feel safe and allowed me to trust enough to join and check it out.
This was life changing for me.  I found myself so engrossed in the training that I sometimes forgot to eat or sleep.  It wasn't easy because I have zero tech skills but I was learning everything that had been keeping me from achieving success in the passed.
I think it was the fifth or sixth day when fearlessly I upgraded to premium level because I knew I was never going to leave this site.
Well, I am living proof that if you give yourself the time and put in the effort, anyone can achieve success through this training at Wealthy Affiliate.  This is not like the scam sites out there.
WA doesn't promise overnight success or fast cash.  You simply work at your own pace and stick with the program and you will learn everything you need to know to make money online.  WA gives you the tools and the knowledge for achieving success.
The more time you can devote to your business, the faster you reach success.  If you are short on time, it will take longer.  That's okay too.  It will just as surely come but will just come slower.
It's free to get started so click the get started button below and get to work:  One more thing, don't just blindly stumble around when you get inside.  You can feel lost at first but you don't need to.  If you fill out a few words and an image in your profile, so I can find you, I'll be there to show you around.
Let's make some money!