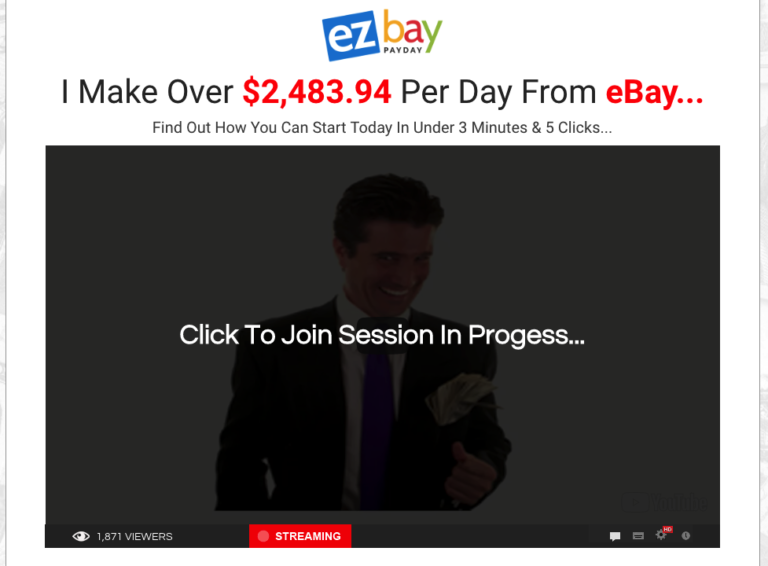 This post may contain affiliate links which means if you click on a link and make a purchase, I make a small commission, at no additional cost to you, the consumer.
---
You must be excited about this program since it says you can make $500. a day or more, but hold your horses! Let's check it out before you dive in.
Product: EZ Bay Payday
Website: ezbaypayday.com
Owner: Steve Richards
Price: $47.
Recommended: No
This product is suspect at the very least since I have already reviewed many more that start right out with big claims like this.  When I see claims of making large amounts of money, very quickly, without putting much hard work or effort into it, red flags start flying immediately.
I own a successful, online, money making business and I know what it takes to make that kind of money working online.
---
What Is EZ Bay Payday
This product claims to offer you information that will allow you to tap into Ebays' billion dollar market where you will start earning passive income of hundreds of dollars a day.
They say you don't need any specific skills and you can get started with just a few clicks. They go so far as to say you can rack up your first $500. in the first twenty-four hours. Can this be true or is it a complete scam? Let's continue.
As I keep digging further into this system they just keep talking about using a "secret" that's been staring me in the face all along.
However, after all the talk about the "secret" they never give me any information about how it actually works or how I will make money.
Instead, like so many other get-rich-quick schemes like this, they just ask for YOUR money. They expect you to sign up and hand over your hard-earned money with no information on how to get a return on your money.
It all just sounds just too good to be true and my thinking is, if it sounds too good to be true, it probably is!
---
How Does EZ Bay Payday Work
OK, so after viewing the video, here are the four simple steps they claim will allow you to begin making hundreds of dollars a day:
Login
Choose a product
Connect your EZ Bay Payday cash magnet
Make money
Here's one thing that's confusing, they first say this product has nothing to do with product or selling, yet in #2 above they ask you to choose a product. This makes no sense.
So what I'm getting from this review is that this whole system is just a bunch of nonsense. It looks like the only one that is going to profit from this product is the owner.
Here are a few more interesting facts about this system, if you haven't already made up your mind. Steve Richards (the owner) is not even his real name . It's a fake and he even tells you that in the fine print of his disclaimer.
If this system is legit, why would you want to hide behind a fake name. I would want my name on it if it was legit.
Another tid bit, all the testimonials are fake as well. They are all paid actors, probably from Fiverr and you can find these same actors under different names, plastered all over the internet.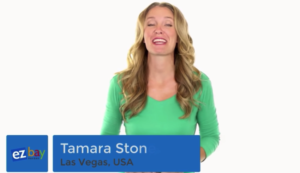 ---
Is EZ Bay Payday A Scam
I'll let you be the judge on that one but it is certainly not one that I would recommend. There are just too many red flags.
Not only that, I own a successful online business and from my experience, I can tell you, there is no way this system can work the way they claim.
There's a lot more work involved in making money online than what they say.
---
How I Make Money Online
I had been searching on the web for a couple of years for ways to make money online when I stumbled upon an awesome website that changed my life.
I'm a real skeptic so I didn't just jump right in. I did a lot of research and read a lot of reviews before joining this community of affiliate marketers.
The thing that finally helped me make the decision was not only that I could join for free but I also didn't need to enter my credit card in order to join.
I knew that as long as they didn't have my credit card information, there was no way they could take my money, but guess what, I think it only took me six days before I upgraded to premium.
The thing is, we don't know, what we don't know. As soon as I got inside the Wealthy Affiliate platform, I started to find answers for things I had never even heard of.
If you don't know what you need to learn, how are you going to find it and learn it.
Well, Wealthy Affiliate knows what you need for success. They have set up the training in a step-by-step process so that you are learning things in the order that you need them.
There are tasks to complete at the end of every lesson. As you move along through the training and complete all the task, you are building your own business and website in the process.
By the time you get through the training, you will have a fully functioning website and online business and you may have even started making some money.
So, the way I make money is not a big mystery like some of the systems I write about in my reviews. It's pretty straight forward.
You see, the key to making money online is by helping other people. It's just that simple. I watch for what folks in my niche, (make money online) are searching for
When I see they are searching for something that is related to my niche, I write articles that will help them or give them solutions to their problem.
When I am able to help someone it gains trust from them and they will often click the links in my website and purchase what I am promoting and I in turn make a commission.
It's a very simple system, a win, win.
You can learn everything you need to know to start your own online business from the exact same place where I learned. It's the best training on the internet.
You'll learn how to optimize your site so it will get ranked high in the search engines, how to get traffic flowing to your website, which means buyers and money into your bank account, how to write awesome content that attracts visitors to your website and so much more.
If this sounds like something you would like to try, you can get started for free by clicking on the button below. I'll see you inside and give you a hand finding your way around if you need me
It's free to join so the sooner you get started, the sooner you can start making money.