This post may contain affiliate links which means if you click on a link and make a purchase I will make a small commission at no additional cost to you the consumer.
---
I know that making $1,000. in just thirty minutes sounds very exciting and making $30K a month sounds even more exciting, but is this really possible?
Product: Voice Cash Pro
Website: voiceprofitsystem.com
Owner/Creator: Monica White
Price: $37. + Upsells
Recommended: No
Voice cash Pro has a way drawing you in and creating a vivid picture in your mind that leads you to believe you can make huge amounts of money with very little effort and very quickly.
They lead you to believe you will make enough money to start living the lif of your dreams in just minutes.
What Is Voice Cash Pro
---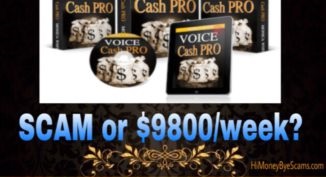 The Voice Cash Pro video starts out by telling you how simple and easy it is to make money using this SECRET new product they have discovered.  They claim you can make $1,000. in just thirty minutes and you can make it every single day and $30K a month.
I could see immediately, when I entered this web page that it was looking like another get rich quick scheme because of all the outrageous claims.  That's common claims made by most all the scam sites out there.
The spokesperson, Monica, claims it's never been so simple and easy to make money online but I can't agree with her on this one.  Making money online is not as easy as she says it is.  If it were that easy, everyone would be doing it.
I've reviewed many other products like this that make similar claims and have turned out to be scams or get rich quick schemes. you can check out a few of these below:
Get weekly Paychecks
Writing To Wealth
EZ Bay Payday
Club 365
Rapid Profit system
How Does Voice Cash Pro Work
---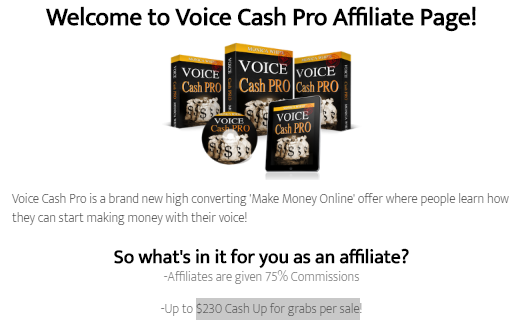 Voice Cash Pro claims they've found a secret new way to make money online and it's supposed to be so much easier than other outdated products.
There are just three simple and easy steps, according to Monica, to make money using this system.  See the steps below:
set up everything by following the step by step instructions
spend 1-2 hours a day working on your laptop or smart phone
sit back, relax and watch the cash roll in
Now I know this is not how you make money online because I've doing it for awhile now and I know it's nowhere near that easy.
They tell you that you will be doing voice-overs for games, videos and different things and that you'll make big bucks for each voice-over you do.  Why would someone hire you, a complete beginner to do this.
No, the truth is only the experienced people, the ones who have made a name for themselves already, will get these jobs.  They also don't tell you if there is training to teach you how to do this or what kind of tools you may need to complete these tasks.
Is Voice Cash Pro A Scam
---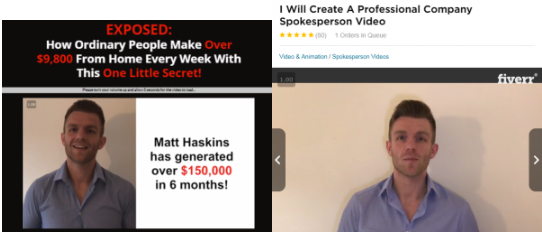 I can't really call Voice Cash Pro a scam because you really can make money doing voice-overs but you'll need lots of training and information before you  can make any money.  It's definitely not as easy or quickly as the video says it is.
The video is very misleading and vague because they don't tell you anything about how this system works.  They just try to lure you in with the very unrealistic promises about how quick and easy you can make huge money.
The testimonials here are all fake.  They are hired actors from Fiverr. If anyone is making money with this product you can bet they would be using real testimonials instead of fake ones.
I'm not sure if Monica is the owner here either since there is no photo that I can find of her.
Conclusion
---
This system has all the red flags I've seen in other system I've reviewed.  While Voice-over is a legit way to make money it takes time and training that I don't think you will get here.
For the above reasons, I can't recommend this product.  There a plenty of legit products online to make good money without being scammed.
How To Really Make Money Online
---
If you really want to make money online, there's a better and safer place to do it.  It all starts with getting the proper training.  Without the training, the scam sharks will eat you alive.
Things you'll need to know are How to choose a niche and domain, how to properly build a website,how to setup you site S.E.O.,How to get traffic to your site, how to write relevant content and so much more.
The place where I learned everything I know about making money online is a legit and safe place to get all the training you will ever need but it is the best place I know to host your website.
They also include the tools needed to make money online as well as the best support system on the planet including about 1.6 million members strong.  That many folks in one place can't be wrong.
You can join and get started for free.  This lets you get inside and look around to see what it's all about and how things work.  You can stay a free member for as long as you like but if you want to move forward at a more rapid pace, you can up your game to premium.
You can go through the training at your own pace and you can be creating your own online business as you go through the training.  The support is just amazing.  There are so many people here to help, no matter the hour, day or night.
The place that offers all I have mentioned in this paragraph is Wealthy Affiliate.  If you'd like to give it a try, you can click the green button below.  Since you can get started for free, there is really no reason not to try it.

Let's make money online!