This post may contain affiliate links, which means if you click on a link and make a purchase, I will make a small commission, at no additional cost to you, the consumer.
---
Are you here checking out Million Dollar Replicator to see if it's for real or are you here looking for legit ways to make money online. Let's check it out and see what we can find.
---
Product:  Million Dollar Replicator
Website:  milliondollarreplicator. Com
Owner:  Michael Sachs
Price:  $37 + upsell
Recommended: No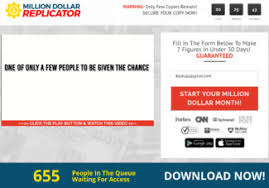 What Is Million Dollar Replicator
If you're wondering if you can make money online fast with very little work, the short answer is no. If this product sounds too good to be true, that's because it's too good to be true.
Michael claims that this is the perfect system for beginners because you don't need  any special skills to use it. It's quick and easy, all the hard work is done for you. You can start making money today.
Those are all things he claims in the sales video. He says this is different from other systems because it's not time consuming or complicated. Michael claims to have made 38 million dollars using the system and claims you can easily do it too.
Like so many other similar sites, he never tells you what or how you'll be able to make money. He just says if you copy his system, you will make money. He does a lot of hype like the other sites.  He talks about his fancy cars and homes and his exotic lifestyle, including great getaway vacations, but this is all just hype to lure you in.
Take a look at a few other similar sites I've recently reviewed:
Get weekly Paychecks
Writing To Wealth
EZ Bay Payday
Club 365
Rapid Profit system
How Does Million Dollar Replicator Work
This system definitely does not work the way they claim it does . You will not make six figures a month or a million a year using this system.  I'm an experienced affiliate marketer and I do have a steady, dependable income online, so I know what it takes to make money online. I'll show you how I do it later in this review. 
So, there's no way to know how you're supposed to make money with this system since they never tell you. It might be affiliate marketing, it might be eCommerce or maybe even MLM companies. We just don't know.
What we do know is, of all the many sites we've reviewed, all the ones with this type of hype and red flags have been scams.  Learning to spot the red flags will help you avoid being scammed online.
Another thing you should know, Michael sachs is a fake. The photo of him is a hired actor. You can find him on other sites using a different name. Also all the testimonials are fake as well. They all are hired actors just like Michael. Most of them are from sites like Fiverr and can be hired for a small fee.
So is Million Dollar replica legit or just another scam.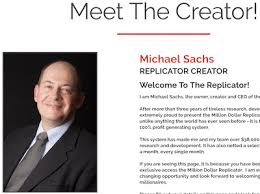 Is Million Dollar Replicator A Scam
It sure smells like a scam to me but you'll have to make that decision for yourself. All I can do is tell you how I see it. The thing is, I do know you can't make money overnight with any new product like this.
There is a lot of things involved behind the scenes to be able to really make money online. It is certainly possible to create a six or seven figure a month income online. Many have done it but it takes a long time and a lot of work to get to that point.
There is a process that works and if you don't know how it works, you're never going to make any money. Another thing about this system is, if it really worked, they wouldn't need to hire fake testimonials. Folks would be proud to let you know how it works for them and that you and that they are making money online.
How I Make Money Online
I make money online with affiliate marketing.  I wasn't always successful with this. I finally got the training that I needed  to put me on a path to success. Anyone can be successful with affiliate marketing, if you have the proper training.
I found that training at wealthy affiliate. The training is simple to understand and easy to apply. They'll teach you all about search engine optimization,( S.E.O.) , how to get traffic to your website, why traffic is important, how to write awesome content the proper way and even how to monetize your site for making money online.
You can learn how from the very same place where I learned. This amazing site has all the training and support you will ever need to get your online business up and running. This is a legit and honest website where you can get priceless training and start making money.
Don't allow yourself to get scammed. Stop focusing on the shiny objects and just realize there's no quick way to make money online. You can make money online and lots of it but you'll have to put in the time to nurture your website and grow your traffic and that's when the money will start trickling in, until one day you reach a four, five or six figures a month income.
If you are seriously wanting to start an online business and start making money online, then the best place to get started is with Wealthy Affiliate.  You can sign up and get started for free.  A free starter membership includes the first level of the training which is ten lessons.
A free membership also includes free hosting and two free websites.  It includes so much more than that, though.  It also includes free site security and the use of a free keyword research tool, as well as 24/7 support.
You can remain a free member for as long as you like.  Once familiar with the site though, most folks can hardly wait to upgrade to premium.  There is so much more training and tools that you get with the premium upgrade.  Your choice though, no pressure.
You have nothing to loose so go ahead and sign up for your free starter membership and get your new online business up and running by clicking on the green button below.

Let's make money online!