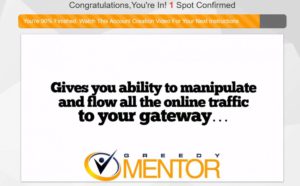 This post may contain affiliate links which means if you click on a link and make a purchase I will make a small commission at no additional cost to you the consumer.
---
Are you searching for a legitimate way to make money online and wondering if Greedy Mentor is the right system for you?  Lets dive in and check it out.
Product:Greedy Mentor
Website: greedymentor.co
Owner/Creator: Meaghan Harper
Price: $67.  + huge upsell
Recommended: No
What Is Greedy Mentor
There are so many sites like Greedy Mentor out there trying to lure you in by playing on your dreams or trying to plant new visions of grandeur into your imagination.
They claim you can make thousands of dollars online, and that you are part of a select group who have been invited to join this incredible program.  They claim you can make thousands each and every day.  If it sounds too good to be true, it's too good to be true.
They also play on the fact that most folks searching for ways to make money online don't really know what it takes to make money online. They think that you can just throw up a website and add a few affiliate links and a few post or articles and the money will just roll in.
This is so far from reality. The fact is there's no quick way to make the kind of money you want to make. There are so many red flags flying with this system. Paying attention to the red flags will help you avoid being scammed.
Here are some other similar systems I've recently reviewed:
Get weekly Paychecks
Writing To Wealth
EZ Bay Payday
Club 365
Rapid Profit system
How Does Greedy Mentor Work
Greedy Mentor is a system that is only open to a very small, exclusive, group of people.  They say the way it works is by manipulating the flow of online traffic to your gateway site.
They claim only a few select people are invited to join this and then the site will shut down.
It's hard to really figure this one out because it's so vague. They claim you can make thousands of dollars, every single day, using this system.
I can tell you they will never turn anyone away. If the site shuts down it will be because the legal powers-that-be will shut it down. Most of them that get shut down by the FTC just change their name, put up a new website, and keep right on going.
I have seen several sites that claim Megan Harper as the owner or creator.  These all appear to be using the fake name and none are really Meaghan Harper.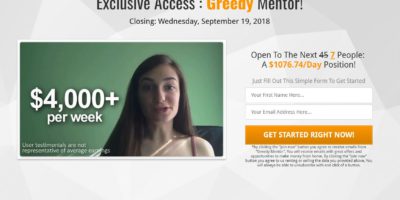 Is Greedy Mentor A Scam
Well, I'm sure by now you've reached your own conclusion. It's not difficult to figure this one out. I've  reviewed so many sites like this and you learn to recognize the same old red flags such as tooth vague, don't tell you how you'll make money, claims of large amounts of money, claims your make money fast, claims that it takes little effort to make all this money in just minutes a day.
All these red flags are good though because they help you to avoid being scammed. They set off an alert to make you be more careful. A few more things that will help you see the truth about this site:
the testimonials are all fake
You will see these same faces all over the internet using different names
They are just actors that are hired from sites like Fiverr and they work cheap
Megan tells you right in there disclaimer that you probably won't make any money
How can you even think of joining it after reading that. One more thing is the price, they say it is $67 but after you give them that amount, they'll quickly let you know that you will need to give them over $2,000 for them to set up your money making website.
Pros:
Cons:
too vague
don't say how you'll make money
wild claims of how much you'll make
very little work
done for you, price with upsell
Conclusion
I really can't recommend this system because of all the red flags listed above and Also because of the fake testimonials and the disclaimer. When you're laying out your hard-earned money, you need to feel safe with the knowledge that a system will live up to its promises, not cheat you and take your money and destroy your dreams.
There really are a few sites out there where you can make money online and lots of it but this is not it
How To Really Make Money Online
I can show you how to really make money online but don't expect it to happen overnight. It also won't be easy. You have to work for it, and I don't mean 15 minutes a day.
There's a lot of things involved in making money online. You have to optimize your website for search engines, S. E. O. You have to get lots of traffic to your site as well and you have to write a lot of content.
I wasn't always successful at making money online.  It was only after I discovered a website called wealthy affiliate that I became successful. They had a training platform that taught me everything I needed to get on the right path to success.
Wealthy Affiliate is the most amazing website I have found on the internet.  It's a hosting site, it's a training site, it includes tools for starting and running your online business and so much more.
I didn't know what was missing until I discovered this Wealthy Affiliate. Although I have achieved success, I continue to learn new things everyday. The site has 1.6 million members there that are ready and willing to help you if you get stuck on something.
Also there are hundreds of lessons and video tutorials as well as they have weekly webinars that you can interact with and ask questions. If this sounds like something that you might be interested in, you can check it out for free. Just click on the green button below.

Let's make money online!