This post contains affiliate links, which means if you click on a link and make a purchase, I make a small commission, at no additional cost to you, the consumer.
---
Are You excited to sign up for this new Auto Affiliate Machine system and get started making money on an automated system without having to write content or work very hard?  Well hang onto your horses for a minute and check out this review.
Auto Affiliate Machine
Sounds like Auto Affiliate machine is going to revolutionize affiliate marketing and get you making large amounts of money automatically, all this without having to work for it, like most of us make money online people do. Heck, you won't even have to write any content.
I've always been a skeptic, so as I'm reading about these secret systems, I'm thinking, no way, but in the back of my mind I'm thinking, could this possibly be true.
Their websites looks clean and well-organized and their bold claims are tempting. Everything about this site looks high quality and convincing but still the hype is throwing up some red flags. Is this system for real or is it another scam like so many others?
See the examples below:

How Does Auto Affiliate Machine Work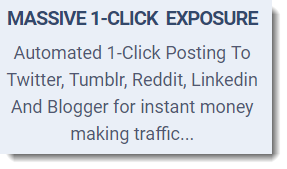 While I have to say that this is a highly over-hyped system. There are aspects of it that are true and it does deliver some value there. The way it works is you will be getting access to a cloud-based pdf creator.
This means that rather than having to install a program, you will get access to the software online. This is a lot safer and more useful but it won't help me make money online.
It is all about being an automated system but in reality, you still have to choose suitable elements, tweak the formatting, write the content, so why even bother.
You can do all that right on your own website. I wouldn't dare call the system automated with all you have to do on your own. That aspect is completely Over hyped.
Another problem is that the reviews are in pdf format. Who does that? No one emails a review to others and certainly not in pdf form. It should be posted on your own website and share it on social media.
This brings traffic and sales to your website. One important thing to keep in mind is they make no mention about how this machine actually works or how you get folks to view the pdf reviews.
The people behind the machine are Billy Darr, David Kirby and Justin Opay. They've been involved with other questionable products in the past, for example David Kirby was involved in an Affiliate Marketing X,  Effortless FB Profits and Smart Five.rr Profits.

Conclusion
There are a few good things about this program but it's not enough to make me want to join or recommend it. They are very Vague about how it actually works. It mostly talks about how easy it is and about the fact that it is automated.
The claims of making big money are also questionable in order to make money you need traffic to your website and to get traffic you need to have a lot of good content. Your site needs to be optimized well.
I just don't see this program producing any good outcomes. There are many really good affiliate programs out there that you can promote on your own website and make very good commissions from. If you're interested in making money online with affiliate marketing I'll show you how .
How I Make Money Online  
I make money online with affiliate marketing. I had tried many other Platforms in the past and had even made some money but it wasn't really enough to live on. In 2015 I stumbled upon a website called Wealthy Affiliate.
It was a life-changing day for me. I found exactly what I had been missing for so long. Through the training at Wealthy Affiliate I learned all about affiliate marketing and how it works.
I truly believe in affiliate marketing. It is the best business model on the internet. With this business model you can choose what you want to promote on your own online business and you can make as much money as you want. The more you put into it the more you get back.
Wealthy Affiliate has so much training as well as 24/7 support to back you up up if you ever get stuck. They supply all the business tools you need for creating your own successful online business, such as keyword research tools, SSS site security, 24/7 support, live chat, web hosting, WordPress quick installer, hundreds of training lessons, videos, tutorials, weekly live webinars and too much more to even mention it at all.
If you want to make money online this is the safest and very best place to start. There are only two membership levels at Wealthy Affiliate.  The first is the starter membership.  You can sign up for free, create a profile and start the the training.
It is recommended that you install your first website with WordPress so that you can use it to complete the task at the end of each lesson.  By doing it this way, you cn have your online business up and running by the time you finish the first course of the training.
You will probably also be getting some traffic to your new website and may even have started to make a little money.  Auto affiliate machine Has some value but it's not going to be something you will ever make any serious money with. If you want to make money online you need a great website that will teach you how to make real money.
Wealthy Affiliate is about 1.5 million numbers strong and growing everyday the members stay for a reason and that's because it works.  If you want to make money online stop wasting your time with the scam sites that never work for you.  You can learn how to create your own online business at the same exact place where I learned.
Click the button and get started now for free!