At a glance 1K A Day Fast Track looks like a great product with the potential of earning $1,000 a day. I could go for that, but let's check it out first. Not every product is As It Seems. There's lots of scams on the market at this time so we really need to be careful.
 What Is 1K  A Day Fast Track About
This is a training course on how to do affiliate marketing. It is a six-week course that teaches you how to promote ClickBank products using email marketing. 
The product was created by Merlin Holmes. He claims that even as a beginner you can make as much as $1,000 a day using this system. He offers you to watch his free webinar where he will tell you how everything works.
The webinar is very lengthy and really doesn't give you much useful information. Most of it is just double talk and most of his claims are just too ridiculous to be believed.
You can visit a few of my other reviews of similar products below:
 Who Is Merlin Holmes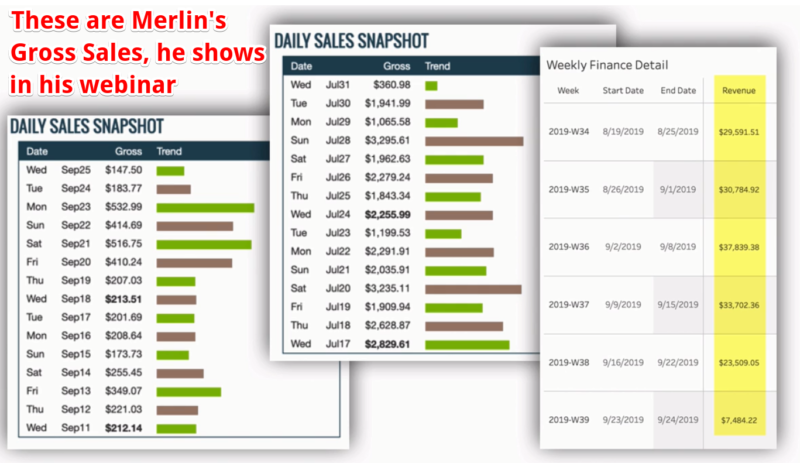 Merlin Holmes is a self-made, multi-millionaire, with 15 years of experience in the affiliate marketing business. During his time in the business he has generated $150 million dollars in income, even as a College Dropout.
He claims to have done Consulting for several other multi-million-dollar companies.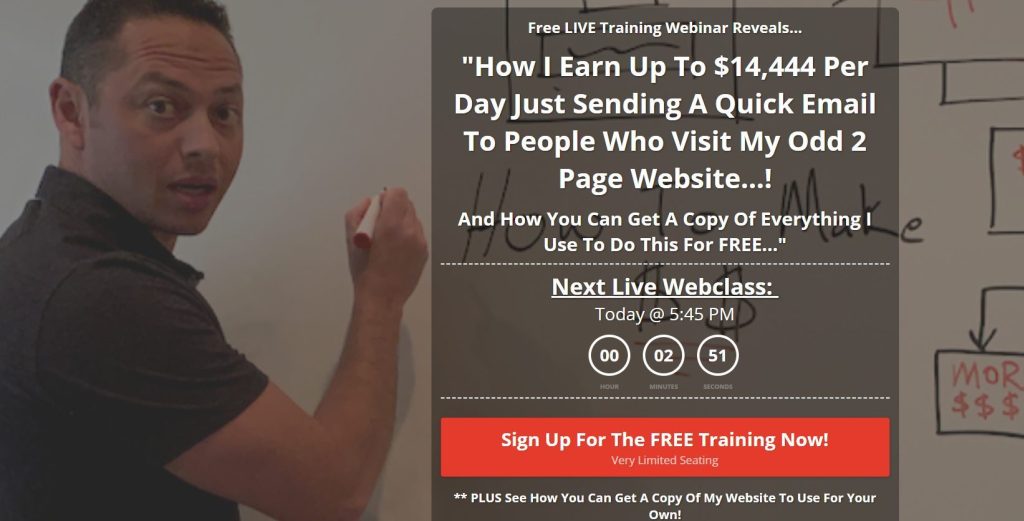 How Does 1k A Day Fast Track Work
This is a product that works on the affiliate marketing principle using email marketing to promote it. With your purchase of the product you get a copy of Merlin's two page website, some email templates and instructions.
This product includes a six-week course that teaches you how email marketing works, how to get traffic and how to set up an autoresponder. There are a lot of flaws in his training, one is about how you get traffic.
The product he teaches you to use for getting traffic is called RevContent. The problem here is you can't even use this method until you have 50,000 visitors to your website.
If you have 50,000 visitors a month to your website you don't need this product. Buying traffic is not only expensive but it is not the kind of traffic that generate sales. You need targeted, organic traffic to get sales.
Targeted traffic comes from you writing awesome, relevant content on your website that helps people find what they are searching for or helps them find a solution to a problem they are dealing with.
Merlin says that this product is newbie-friendly but I can tell you from experience that most beginners will not be able to make this work. If even setting up an autoresponder to collect emails has a learning curve that would be difficult for a beginner to understand. 
Included in 6 weeks training course:
1st Week – 5 Day marketing masters degree + Quick $400 Commissions
2nd Week – Setting up more commission Accounts, Finding the right product and getting everything in place.
3rd Week – Fast development and deployment of your 1st poll
4th Week – Creating an automated selling system
5th Week – Creating your 1st money-making Ads
6th Week – Panning out your future stream and secret offer sources.
Besides the training, in the webinar, they say that the first 15 people will get Bonuses.
The thing is, the webinar runs every fifteen minutes so why even say the first 15 people get bonuses.
The bottom line is that everyone gets the Bonus. All of them:
Proven Landing Page Templates
Secret Thank you page cash generator script
Full email templates
Titan of the traffic training system
Phone consultation for first 5 (again, this is just a marketing trick, since the webinar can be replayed 4x per hour)
Ad Pack, Partner support
Free 2nd login for your partner
Secret Package FedEx to your door.
 Is 1k A Day Fast Track A Scam
This product is probably not a complete scam. Some experienced people will probably make some money using the product. It will cost you a good chunk of change before you would make any money though.
You will spend almost $1,000 just to purchase the product and then you will spend a lot more on buying traffic. I think the only people who will make money here is the owner.
I recommend passing on this system and keep your money in your pocket. There are some really good systems out there for you to make money. They won't cost you a fortune to get started in either.
If you still want to try this product after reading this review click here
Product: 1K A Day Fast Track
Creator: Merlin Holmes
Price: $997.
Rating: 2/10
Recommended: I don't think so
Pros
Does offer training in a six week course

Some potential for income
Cons
Very expensive

Not for beginners
 Conclusion
This product offers the potential for the more experienced marketers to make money although it is very expensive to get started. I would not recommend this product for beginners. There are parts of Merlin's training that just don't make sense to me as an experienced marketer.
There are lots of products on the market that are much easier because of the training included and at a far less price.
 My Top Product Recommendation
I have been making money as an affiliate marketer for about 2 years now. No, I don't make $1,000 a day yet but I'm working on it. I had tried many products similar to this one and lost lots of money before I reached success as an affiliate marketer.
It's so easy to get sucked into the scams claiming you can make thousands a day very quickly and without tech skills or experience. It just doesn't work that way.
I finally stumbled upon Wealthy Affiliate one day by total accident. I have been a member for almost 5 years now and will never leave. They taught me so much about affiliate marketing and put me on my path to success.
It's not easy, it's not a fast track,  but it will get you on a solid foundation for a long-lasting business. It's like building a skyscraper. You can't start at the top and work your way down.
It will just crumble and fail in the end. The right way to  do it is to start at the bottom, build a strong, sturdy foundation and slowly work your way up. That's how you become successful with affiliate marketing.
At wealthy affiliate the training is never-ending. Things change fast in the internet world and wealthy affiliate keeps you up-to-date on all the changes is in the market.
If you want to build a real, successful online business, wealthy affiliate is the place to do it. You can start for free and get your business started, using the beginner training. 
Wealthy Affiliate offers a premium membership for a small monthly fee but it is not required. You can stay as a free member for as long as you like. No credit card is required to join the free membership. If this is something you would like to take a look at just click the button below.

As a  as a premium member you get me as your personal coach I will help you get your website up and running and get your business started and I will be there for you every step of the way
 I'm adding a comparison chart below, between the free membership and the premium membership just so you can see the difference.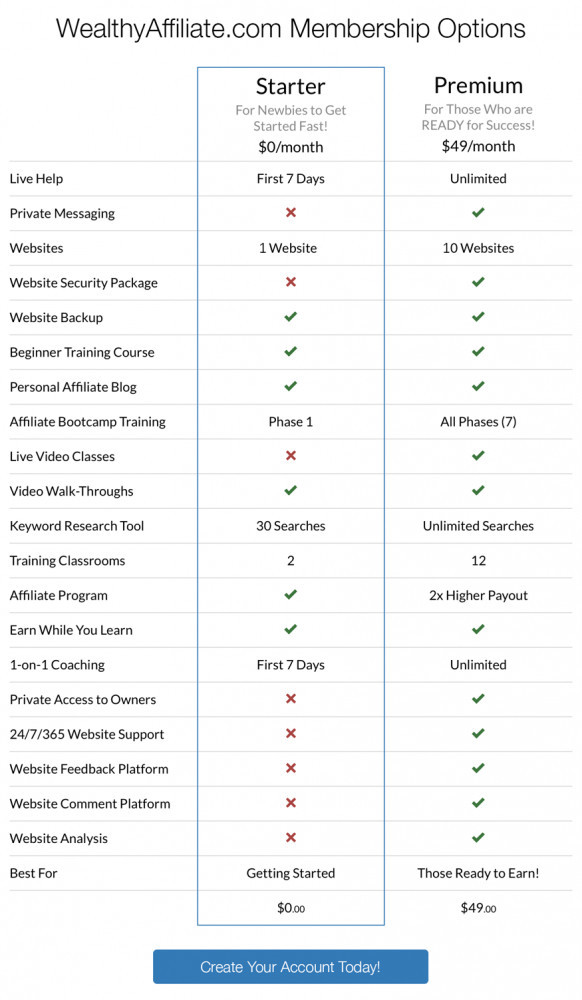 I wish you good luck my friend!
Fran