Can you really make $720./day or $262,800./year using Mack's Millionaire Society system?  That what he says you can make and it will run on autopilot. Let's check it out because it already sounds too good to be true.
What Is Millionaire Society
Millionaire Society is a system created by Mack Michaels ( fake name) that you can use to make a very nice online income. But is this true? Mack says you can get this system up and running in just 15 minutes and be ready to start making money.
He says it's so easy anyone can do it and there will be plenty of help and support for any snags you may encounter along the way.  Unlike a lot of the other products I've written reviews on recently, Mack doesn't promise you'll become a millionaire or be able to buy a yacht.
He simply says that if you follow his training, apply the training the way it is given you will have a true opportunity to earn a good amount of money.
You can check out a few of my other recent reviews below:
How Does Millionaire Society Work
Millionaire Society is a done-for-you, turn key system.  They say you will also get secret traffic sources, one being the website adf.ly. This website will give you the kind of Organic traffic you will need to make sales.  It  will be generic traffic and not the good targeted traffic.
The done for you business consist of social media marketing, PLR ebooks, and website templates. The problem here is that these products are outdated, you can not  expect to make a lot of sales or much money.
The turn-key business is about selling PLR ebooks through Paypal, hoping that you will get buyers. As you buy cheap untargeted traffic, you won't be making many sales.
This system goes about getting traffic the wrong way.  Buying traffic can be very expensive and isn't targeted to your business.  What you want is Organic traffic for two reasons, 1. It's free and 2. they come to your site ready to buy.
You get some more video training, like:
How to get 100k visitors in an hour
How to make money on Clickbank
Pinterest profits
Domain flipping
How to build a respected website in one day
And How to reverse engineer competition
Millionaire Society will also tell you to advertise your affiliate products with Google, but not how to create an advertisement that will convert visitors into buyers.
You need to know what you are doing with paid advertising, or you will end up spending a lot of money without seeing anything back from your investment.
Is Millionaire Society Legit Or A Scam
There are a lot of reviews written online about this product.  Some say definite scam, others say legit product.  I judge a product by whether or not it is possible to make money.
People work at different levels of expertise so what works for some may not work for all.  Even if it says it works for everyone, there will always be some who won't understand how to may it work.  That does not mean it is a scam.
All that said, I will say that I would not recommend this system for a newbie.  You need to have experience when it comes to buying traffic.  If you don't you could waste a lot of money and get nothing for it.
Product: Millionaire Society
Vendor/Creator: Mack Michaels
Price: $4.95 first 7 days/then $97. a month plus upsells
Rating: 4/10
Recommended: your decision
Pros
You can get most all of the training that's in this product for free online
Possibility you could make some money
Team of 15 coaches to help you
Cons
Video is full of hype
Fake names
No testimonials
Fake income claims
Fake name of the owner
Outdated materials
Low quality training
Use of PLR products
No info about the owner
If you want to go ahead and try this product just click here.
Conclusion
I feel confident that anyone with some experience could make some money using this product but you probably could do as well on your own.  However, none of us know it all so you may pick up a few tricks of the trade that would make your business work more smoothly.
Yes, there are some red flags here such as how easy it is, how much money you can make and how quick you can make it.  There's also the fact that the creator uses a fake name.  If this is completely legit why would you need to use a fake name.
My #1 Recommendation
If you don't want to take a chance on Millionaire Society then I am going to show you the platform I use for all my marketing websites.  I know this platform can be trusted because I've been using it for four years.
It's called Wealthy Affiliate and they have been in business for about thirteen years. Wealthy Affiliate is two million members strong and offers all the help and support one could ever need.
This is an all-in-one platform.  You get your website hosting, you get training, you get site security (SSL). They have a keyword research tool to help you get ranked in the search engines, live chat, site support and so much more.
Another thing that makes this platform different is, you can actually speak with the two co-owners.  They often even seen in the live chat helping people solve a problem or two.
Here's another great thing about Wealthy, you can get started for free.  You can take some training, get your free website up and running and get your new online business online.
This platform will not tell you it's going to be easy because it takes a lot of hard work to become an online success, but they will give you all the tools and information to put you on the right path.
You can't fail if you follow the training exactly the way it is laid out and complete every task along the way.  There is a process that needs to be followed if you expect to achieve success with online marketing.
Wealthy Affiliate offers two membership levels, a free membership and a premium membership.  You get a free website with the free membership.
Most people upgrade to premium membership within a week or so but just know it's not a requirement.  You can stay a free member for as long as you like but most people want the many added free benefits of premium.  I'll put a membership comparison chart below.

Membership Comparison Chart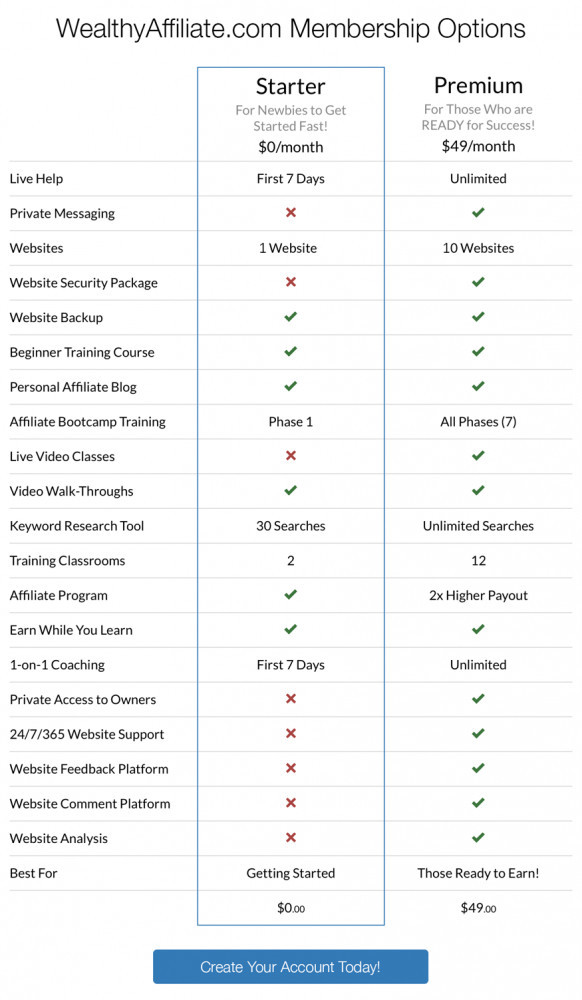 Good luck my friend!
Fran