There's a big demand for good online income products but is Perpetual Income 365 what it appears to be?  How can you be sure?  Well there are no SURE things in the affiliate marketing world but there are some ways to keep you safer if you learn to recognize the red flags.
Let's check this product out and see just how it works.
What Is Perpetual Income 365
Perpetual Income 365 is a Plug-and-Play affiliate marketing software created for all levels of affiliate marketers- from newbies to advanced marketers.
This product seeks to enable ordinary people, who have zero internet experience, to make a full-time income through affiliate marketing, using this plug-and-play system.
They say you don't need any technical skills to make this system work for you.  According to the creator, this system uses a secret wealth growing algorithm that has generated thousands of dollars for corporations like Netflix.
The thing is here, it's hard to tell exactly what this system is and how it works because like so many other products, they never tell you exactly what it is all about.
The hype is all about how much money you can make and how quick you can make it even without any experience and no skills needed.  I'll show you some similar products I've reviewed in the recent past below:
How Does Perpetual Income 365 Work
First of all, let me just say right off the bat, Netflix has absolutely nothing to do with this product.  It's just a fluff word they used to grab your attention.
It's a buss word that systems like this one uses to get attention and lure you in.  In reality this is just another affiliate marketing system.  The fact is, most of these new products that are released on a daily basis are just copy-cat products.
I don't see anything new or much different about this one.  If you buy into this system, here is how it will work:
You sign up to Click Bank and get an affiliate ID for the product you are choosing to promote
You get an autoresponder of your choice (they recommend Get Response)
Create an email template (they provide you with a generic template)
Build a landing page
Get solo ad traffic like Google ads (they recommend a program called Udimi)
Promote the product
Is Perpetual Income 365 A Scam
I'm going to say No, it's not a scam.  I will say I don' think a newbie will make any money using this product.  The reason is that affiliate marketing has a learning curve and they don't have the training that you would need for it to work,
An experience marketer might make some money using this product but the thing is, you can just go to Click Bank directly, set up an account and do this all on your own.
You can also get your own traffic which would be better than the paid traffic this product is offering because it is Organic, Targeted traffic.  The way you get this kind of targeted traffic is by offering great, helpful content that brings people to your website.
Organic traffic is what you need in order to make money because this traffic comes to your website ready to buy.  This means commissions in your bank account.
Product: Perpetual Income 365
Vendor/Creator: Shawn Josiah
Price: $9. plus upsells
Rating: 4/10
Recommended: Not for newbies
PROS
If you have affiliate marketing experience you may make some money
The product is 95% done-for-you
Reasonable price
Since it's a ClickBank product it has a money back guarantee
CONS
Nothing new, Just another affiliate marketing system
expensive upsells
Not for newbies
Conclusion
This product is just another glorified affiliate marketing system.  It's being hyped some kind of secret algorithm but it's just not there in my opinion. They use a lot of hype to try to suck you in.  They play on the knowledge that so many people want to work at home and make money online.
Most marketers will see the red flags that pop up through out this offer and won't be drawn into products like this one.  Some may see something here that I am missing.
If that is the case then I wish you luck!  You can sign up for the product by clicking here:

Here Is My #1 Recommended Program 
Wealthy Affiliate is my top recommended platform for making money online.  The reason I say this is because I had struggled for several years to make money working at home.
I knew there was a way  because I had friends that were making really good money working out of their home.  I just could not figure it out.  I accidentally stumbled upon the Wealthy affiliate website one day and signed up for the free account.
I immediately started the training and quickly saw the value there would be in updating to the premium membership.  It's totally free to join and get your website started.
There are tow membership levels at WA, free and Premium.  You can get started for free, take some classes, get your online business started and more.  If you decide to upgrade to premium you will be amazed at what is offered.
You never have to upgrade if that is your choice.  Wa lets you stay and continue with your website and free hosting for as long as you like but if you want to take advantage of all the training and other perks in the the premium membership it is a wise decision.  See the membership comparison chart below: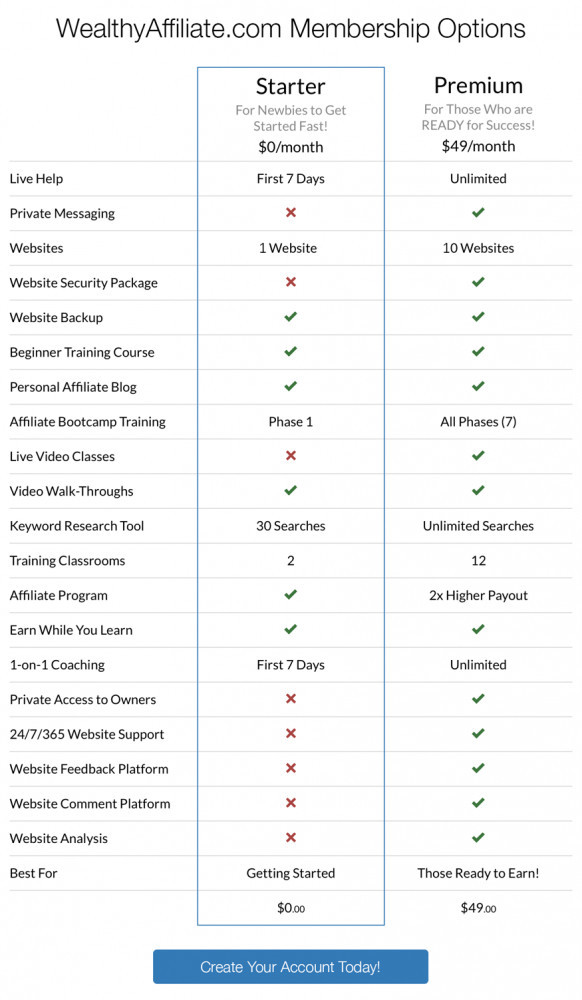 I have been making money online for almost two years now and Wealthy Affiliate is home to my online businesses.  Yes, I have several websites to make money online.
Wealthy Affiliate is an all-in-one platform.  With the premium membership your websites are hosted for free.  You get unlimited training, you get free SSL (site security), you get 24/7 support as well as live chat, You get a free keyword research tool and so much more I can't begin to tell you everything that's included.
WA has been in business for 13 years and is over two million members strong.  If you want to learn more about WA, here's my Wealthy Affiliate Review.
I just know how long and hard my journey to success was and that's why I want to help anyone I can make their journey easier and quicker.
Good luck my friend!
Fran