This post may contain affiliate links for more info visit my disclosure page.
Legendary marketer review
Are you here checking out Legendary Marketer in hopes that you will find a legit product to promote and make some money?   You are very wise! I review products like this to
help keep folks from getting scammed online.
I am not an affiliate for this company, but I have seen many positive reviews for it. The truth is, yes, you can make money with legendary marketer. I'm sure  you've seen
screenshots of other Affiliates making thousands per day with this. The fact is, you would have to spend thousands of dollars before you would make any money.
 No, this is not a scam but it all depends on how much training you have and how much money you are willing to spend. There is no guarantee that the system will work for
you.
 Legendary Marketer Review Summa

ry
 Product: Legendary Marketer
Website:  legendarymarketer.Com
Founder:   David Sharpe
Price:  $30./Mo plus expensive up sells up to $30KRating:  6/10Rating
Rating: 6/10
Recommended: No
Best for:  The founder and people who have enough money to invest in this in order to make money.
 What is Legendary Marketer?
 Legendary Marketer is a System created by David Sharp.  He says the purpose of his company is to help other people build an internet marketing business through his training
courses and Live Events. David has been a digital marketing entrepreneur for over nine years and has created three multi-million dollar companies from scratch.
He knows what he is doing. Now his goal is to help others by providing this training platform to teach startup entrepreneurs to earn a full-time income with their own digital
business.
 How does Legendary Marketer work?
Dave says most internet startup businesses will fail, in fact he says only one out of 10 will survive. He claims that franchise businesses have a much better chance of surviving
with a 9 out of 10 success rate.
So what he is doing is bringing the franchise business model to the internet. Dave has created a done for you, proven sales funnel that works. All you have to do is do what
Dave does and use his sales funnel the way he teaches you in the training and make money.
Dave is known to the internet world as "duplicate Dave" because with his system you just duplicate what Dave created, use the sales funnel and make money. In reality the
only product in Legendary Marketer is the training and membership. You're just trying to resell their membership to earn a commission.
 

The truth about Legendary Marketer
On the surface this looks like a pretty good system. Dave makes a lot of money, he's a very successful leader and the training all looks great. Looks like you can really make
money online with this.
What some don't understand is, if you join a $30/month membership, you won't be able to earn those large thousand dollar, $2,000, or $12,000 Commission. You will only
earn $18 for each referral.
If you want to  earn $1,000 commissions, you have to Fork over $2,500 to purchase another product in order to do that. The up sells get bigger and bigger with every upgrade.
Affiliate marketing is a real legit internet business model but I never recommend this pay to play products. I do have to say there is some real value in the training that you
get with this product that you can take back to your own online business and make it better and more successful.
This system is totally different from my top recommended platform like wealthy affiliate. You're not required to pay money to make money with them. That's
the legitimate way to run and online business. I'm not going to bore you with a list of all the up sells but the prices go from $30 dollars a month up to $30,000. dollars
one time payment. This subscription is just going to teach you the basics of internet marketing.
The courses included with this subscription include: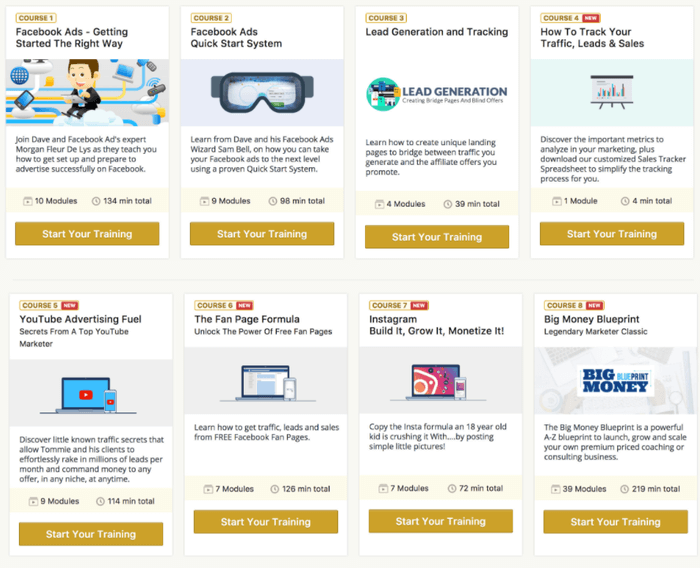 Facebook ads getting started the right way

 Facebook  QuickStart program

 Lead generation and tracking

How to track your traffic, leads and sales

YouTube advertising fuel

The fan page formula  secrets from a top YouTube marketer learn how to get traffic, leads and sales from free Facebook fan pages

Instagram- Build It, Grow It, monetize it

 Big money blueprint- legendary marketer classic
 They also provide you with a few other resources to promote their own products with. It wouldn't be of any benefit to use for your own business. Legendary marketer is for you
if you are wanting to start a make money online business but only if you have a few thousand dollars to spend. You also May benefit if you are a Network marketer who
wants to generate more leads and sales through online marketing.
 Pros
 There is a lot of value for the money. ( Only the

$30 a month Legendary Marketers Club Membership)

You get hours and hours of training on internet marketing such as Facebook ads, Instagram, YouTube, lead generation, and much more. This training would be very beneficial for a complete beginner.

It's a step-by-step learning process so you will be guided through the steps. You're also provided a coach as soon as you have joined, that will answer questions and guide you through the steps.

 This product is definitely an affiliate marketing product, not an  MLM.

They offer very high ticket products so you can earn high ticket commissions

 30-day money-back guarantee. You can cancel and request a refund within 30 days
 Cons
 Too expensive

 Stay focused only unpaid traffic and teach you nothing about 3 traffic

They focus on Facebook ads but it's really hard to get ads approved in the make money online business on Facebook

Mainly promoting their own products

Not likely to make much money unless you're willing to spend thousands

Pay-to-play products
 Conclusion
Legendary Marketer is definitely an affiliate marketing platform, not an MLM. If you have thousands of dollars to invest in the system, then you can likely make some very nice
commissions and have some some thousand dollar days.
Do you really want to take that risk? There is some very beneficial training for beginners to affiliate marketing in the Legendary Marketers Club at $30 a month membership.
You'll get coaching as well if you need help on some or have some questions there is a much better way to make money online with
 A Better Way To Make Money Online
 I recommend Wealthy Affiliate above all other platforms for making money online. It is the best platform to learn and earn for affiliate marketers. It's free to get started and
there are no expensive up cells.
The training is focused on teaching you how to build your own online business in any Niche you choose. The core training at Wealthy Affiliate is focused on helping you choose
a niche based on your passions and build an affiliate website around that Niche.
Yes Wealthy Affiliate has an affiliate program where you can promote their membership but the main focus is on their training. 
Thank you for checking out my article.  If you have any questions or comments please drop them in the comment area below.  I respond to all comments and questions!
.