This post may contain affiliate links.   For more info visit my disclosure page.
Product: Secret Millionaire Bot
Website: secretmillionairebot.com
Owner/ Vender: Charles Allen
Price: $32. + Upsells
Rating: 2/10
Recommendation: No
If you're tired of being scammed online and you're searching for a legit way to make money online, check out
---
I recently ran across this system while browsing the internet and thought I'd  check it out to let my readers know what it's all about. I'm always searching for great products to promote and let my visitors in on them. Let's dive in and see what we can learn.
What Is Secret Millionaire Bot
I can tell you right off the bat that words like bot, secret, or millionaire, usually throw up red flags immediately for me but I'm not going to let that stop me from getting a better picture of what the system is about.
I will say that most products I've found that include these words have turned out to be very low qualitor outright scams.
Secret millionaire bot is a ClickBank product that claims you can earn $2,479 a day using a secret auto-pilot software that is included with the system.
They say this product revolves around affiliate marketing. Now affiliate marketing is what I do to make money online and it is a legitimate business model.
If you believe you that you can make $2,479 a day on auto-pilot, then this review is a must-read for you to learn the truth about how affiliate marketing really works.
I can tell you right up front, this product is not how it works. I know you'll see a lot of reviews online praising this product. The real truth is, these Praises are coming from Affiliates that are making high commissions from the product.
Of course they are going to say it's a great product. They don't really care that you will just lose your money.
I have reviewed many other similar products that have turned out to be scams or less than desirable products.  You can check out a few of them below:
Profit Tunnel Blueprint Review
Bullet Proof Commissions Review
How Does Secret Millionaire Bots Work
This product is an offshoot of John crestani super affiliate system. You are told to follow the step-by-step instructions to replicate the success of the owners.
To make money,, you will be promoting a product called bulletproof profits, which is a ClickBank product. This is just another hyped up affiliate marketing product that doesn't deliver on its promises.
So they claim this secret software uses a bot to crawl the internet and find the best products and services for you to promote. Affiliate marketing just does not work that way.
You can search any product for yourself to see if it has an affiliate program. If it does (and most do), then you apply and get accepted to their affiliate program.
When accepted, they give you a unique link that you place in your promotions. If someone clicks your link and makes a purchase, you will earn a commission.
The problem with this system is, you need your own self hosted website to draw traffic to it. You then write content around your product to draw that traffic to your website and make money.
Instead, what you get with this product is a done-for-you website. These done-for-you websites don't work for you because the search engines consider them duplicate content and they don't like that.
If you really want to make money online with affiliate marketing, there is a better and legitimate way to do it. You can't be too careful when choosing systems online to promote.
Is Secret Millionaire Bots A Scam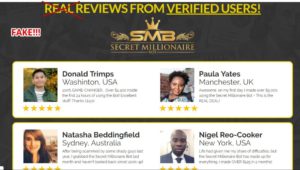 I wouldn't call this product a scam because I do think you could get some valuable info here if you already have some experience. I do not, however think a beginner would be able to find that value in this product.
The training is just not clear enough for a beginner to Grasp. However, there are also some red flags that come with this product. Their income proof and testimonials are fake, possibly even the owner is fake
I don't buy into products that use any fake statements in their promotions. As I said earlier in this post, there is a better more legit way to make money online.
If you are serious about starting a new online business, you probably need some training about how to get started. You can learn all this from the same place I learned and you can get started for free.
No credit card information is needed. There are no upsells here, just an offer to upgrade to premium membership, if interested. There is no pressure and you can remain a free member for as long as you like.
Most people see the value and choose to upgrade but you never have to. It's not a requirement. You can keep your free membership, keep your free website and online business.
It's just that the premium membership gives you so much more than the free one. You can compare the two using the graphic below and use it to make a decision when you're ready.
This platform gave me everything I needed to get my online business up and running.  I had absolutely no tech skills and no knowledge of social media or how it works.  If I could do it, anyone can.
It's a simple process to learn even if you are uneducated.  All it takes  is commitment to learn and to stick with it and a burning desire for success.
I have been making money every single month for 14 months now.  It makes my heart sing when I see people with no education and don't know where the next meal is coming from, come here and become successful marketers.
They become responsible citizens and provide a good life for their families.  They contribute to their communities and pay it forward.  This platform is truly life changing!
If you want to get started now for free, click the button below.

Let's make money online!