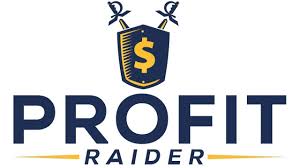 This post may contain affiliate links.   For more info visit my disclosure page.
Product:Profit Raider
Website: profitraider.net
Owner/Vender: Samuel Cheema & Edwin Mik
Price: $10.95 + Upsells
Rating: 2/10
Recommended: No
Are you ready to quit your day job and start living your dream? This may be your ticket to Financial Freedom. I'm glad you're checking out my review though because things aren't always as they seem.
There are a lot of products out there that fall short when it comes to fulfilling their promises.
You'll see a lot of reviews out they're praising this product but when you dig into their reviews, you'll see that they are Affiliates of the product.
They don't care if it's good or bad, they are just promoting it to make money. You must be diligent with your research before you just start accepting these products at face value.
I've reviewed many other products similar to this one in the past and while they may not turn out to be complete scams they are certainly misleading at best.  See a few below:
Profit Tunnel Blueprint Review
Bullet Proof Commissions Review
What Is Profit Raider
The owners tell you that this is a simple, yet powerful, no fail system. They claim it requires no tech skills and you can make big money by working just 30 minutes a day.
It's easy to set up because they leave nothing out. Even a total newbie can do it.
They claim that most folks that work online fail because they don't have a step by step method to follow. I beg to differ.
Most folks working online fail because they get sucked into Shady products like this one that don't deliver on their promises.
How Does Profit Raider Work
When you get into the members area you will be given access to 20 plus, step-by-step video tutorials, that will show you exactly what the owners did to make money online with this product.
They'll show you how to set up your first prophet Raider campaign and how to unlock loads of high converting traffic. What this system really is, is an affiliate marketing system.
This is the same method I  and many others already use and I didn't need profit Raiders to do it. Most products online have affiliate programs.
You sign up for a products affiliate program, they give you a unique link to add to your content, when someone clicks on the link and buys the product, you earn a commission.
It's that simple. Systems like this use fancy sales pages with loads of hype to lure you in.
When it's all said and done, it's just a simple affiliate marketing program and you don't need this system to learn affiliate marketing.
In fact, you won't even get good training because what they teach is really not the way it works. There is a process to success with affiliate marketing.
While it is simple, it does require hard work, effort and commitment. It takes time to develop to the point that you will make money.
If you are looking for overnight success, then you can buy into products like Profit Raider but I think you will be sadly disappointed.
If you take the time to learn the right way to do affiliate marketing, you'll be able to create an online business that will sustain you for years into the future and will afford you to live the life of your dreams.
The way profit Raider works is that they suggest you set up email campaigns in order to get people to sign up to your list. You offer them a free product or service to entice them to sign up.
You gain leads with this list and promote your product to these leads. The problem with this is they are not clear in their training about exactly how this is done.
You will need to spend more money for upsells to get more information on how to do this. They say their system is beginner friendly, but I can assure you, no beginner would understand how to do this.
Is Prophet Raider A Scam
No, I don't call this a scam, although it is very misleading. An experienced marketer make pick up some tips and tricks to increase their income a little but this system certainly is not for a beginner.
No one will start making money with this product by just working 30 minutes a day. This method would require you to buy paid ads which are very expensive, so you would need a large budget set aside for that.
The owners make the system sound so easy but it really isn't. They say you can get your campaigns up and running in 24 hours or less and start making $200 or more every single day.
I can tell you, that will not happen. Another red flag with this product is that their income proof is fake and their testimonials are fake.
Real successful products don't need to use fake testimonials. They are happy to present you with real testimonials that you could contact and verify.
If you're really serious about starting an online business or becoming more proficient with your knowledge of how affiliate marketing really works there is a legitimate place online where you can learn without the danger of being scammed.
It's the same exact place where I learned and you can get started for free. Once you are in and have a look around, you may want to upgrade to premium membership but it's never a requirement.
You can remain a free members for as long as you like and there are never any upsells. Just the one upgrade to premium if you so desire.
The platform where I learned about making money online is Wealthy Affiliate.  I had tried my hand at making money online many times before only to end in failure.
When I discovered Wealthy Affiliate and started the training I quickly learned the real way to make money online.  I found all the answers I had been missing and got on the path to success.
If you are serious about starting an online business and start living a better life, you can get started right now for free.  Just click the button below.

Let's make money online!