Are you tired of fighting traffic getting to your nine to five job?  Wouldn't you just love to roll out of bed every morning, pour yourself a hot cup of coffee and sit down at your computer in your cozy PJ's and make money online?  Yeah, that's what most of us dream of and Viral Cash App claims they have the app for you to do that.
Product: Viral Cash App
Website: viralcashsapp.com
Owner: Matthew Neer
Price: $47.
Recommended: No
Viral Cash App claims to have created a software that when used properly, you can make very large amounts of money, very quickly, even thousands, and with no experience.  I wonder, why isn't everybody doing this?  Let's dive in and see what this product is all about.

What is Viral Cash App
According to their description, Viral Cash App is a software that was created to help people make money online.  As I Review this site it brings to mind another site, Income League, by this same owner and it works pretty much the same as this one.
This is another one of those websites claiming you can make thousands of dollars a day by sharing your favorite videos and placing ads in them and then sharing.
They say you can make up to $367./ per sale.  They say that you can easily make 10-12 sales a day and even more if you want to work a little harder.
This is not the only site like this that I have seen.  This is another, of many, sites that are owned by Mathew, and it works in a similar way. The promise of big money with little effort and very quickly, always throws up RED FLAGS to me.
I've been working online for years and have tried about every method out there to make money online and one thing I have learned is that there is a learning process to making money online and this is not how it works.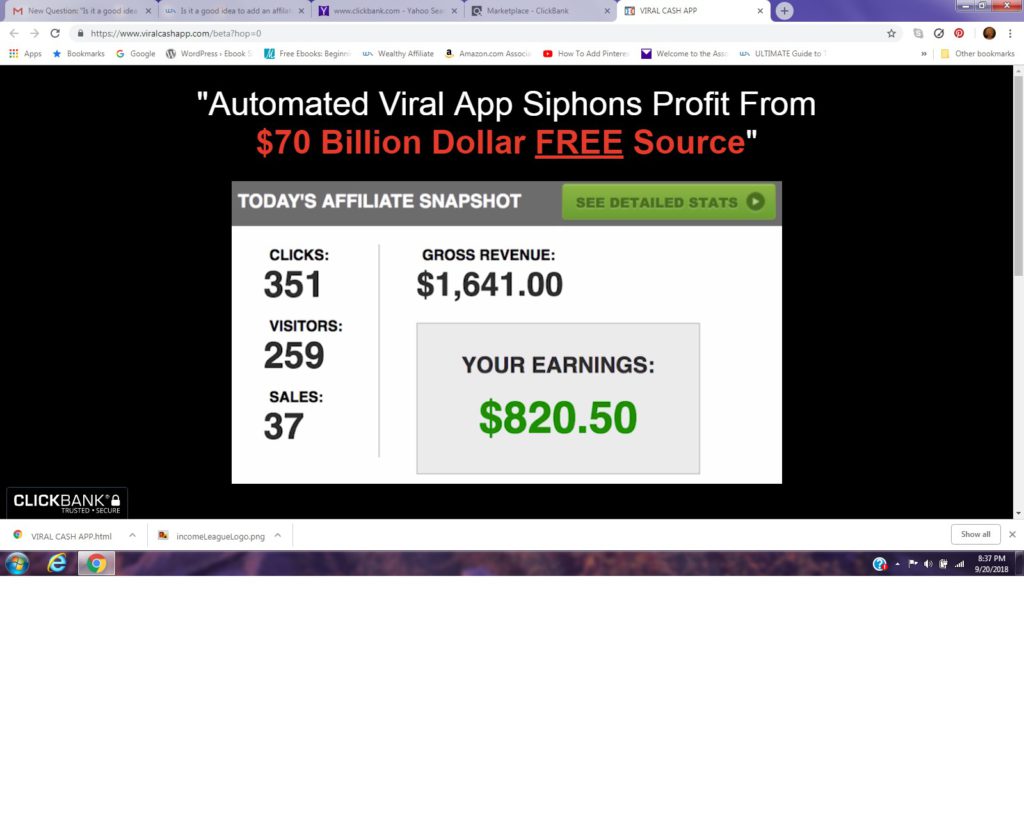 How Does It Work
They tell you that Viral Cash App will create a website on your behalf and you will be required to put videos just like those that you usually watch on YouTube, on to your site. The videos that you should upload should be entertaining so that they grab the attention of the viewer. You will not have to worry about traffic because Viral Cash App will do that job for you.
Matthew talks about those people who make these viral videos and how they earn 7 figure incomes and how they do all the hard work but you won't have to because this APP does the work for you.  The Viral Cash App also monetizes your site for you so it's set up for you to just rake in the money with very little effort.
The thing about this is, you won't really own anything for your money.  You won't own your own business or anything.  If this site gets taken down, like so many similar ones have, you're left with nothing.
I believe the sale page is very misleading.  Getting traffic to a new website takes time.  It takes a lot of great content to attract traffic.  Traffic doesn't just miraculously happen.
I also don't believe you'll ever make as much money as they say you will.
Is Viral Cash App A Scam
No, I do not consider Income League a scam, it is a legitimate system that will work to a certain level, but you will need a bigger online presence if you really want to do this making money online thing long term.
Income League will not only charge you $47, you will be hit with a few upsells as well in the hundreds of dollars so if you think you could use this system without these upsells, think again.  If you look at the funnel in the image below, you'll see it would cost you a total of $490. before you could even access the members area.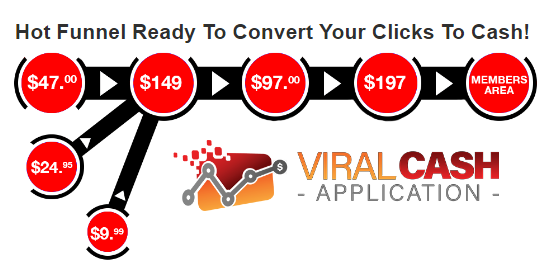 I won't call Viral Cash App a scam because I didn't buy into it but it is certainly misleading and for that reason, I wouldn't recommend it to anyone.  As an experienced online marketer, I know what it takes to have a successful online business and one thing it takes is you have to be able to get traffic to your website.  That doesn't happen overnight.
I will say that the app works in that it does put a website on it for you and the viral videos and it monetizes but this is not enough.  You need traffic and there is no method of bringing traffic quickly if at all.  If you want to go ahead and try this, it's your choice and I guess, since it is on clickbank, you could get your money back.
If you do try it, just go in with caution as you would with any unfamiliar website.
A Proven Method To Make Money Online
There are a lot of internet marketing products out there that sound really amazing.  They claim that you can make a lot of money with very little effort but folks, it just does not work that way.  There is no way you can make money online without putting a lot of hard work into it first.
An internet business is just like a brick and mortar business, you first have to develop a following before you will make any money and that means doing what it takes to bring traffic to your website.  You can learn how to build a successful, money making, online business, just like I did, using a platform that teaches you a proven path to success.
There is a proven strategy that anyone can apply if you know how.  It's called Evergreen.  What that means is that it's a lasting thing, Something people will always be interested in.  But you need to learn all the things involved in attaining success in your online business and it's hard to do that on your own.
I found a an amazing platform a couple of years ago that taught me how to build an online business that encompasses all the elements you'll ever need to make money online.  This training gave me a whole new perspective on creating an online business.
You can find the same training I used to get my online business started an the right path to success by clicking the button below.  It's free to get started.
My #1 Recommendation